GOOD NEWS TO ALL SPROUT LOVERS OUT THERE!😍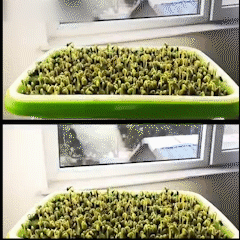 Now is your chance to grow your very own organic leafy sprouts right in the comfort of your home. The Double-layer Seedling Tray will definitely do wonders for you! You can now easily grow your own seed, bean and grain sprouts.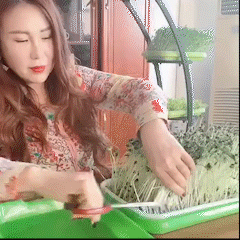 It makes a great project to share with kids, who will love watering the seeds and watching the sprouts grow before their eyes. No soil or sunlight is needed to grow delicious, nutritious sprouts--just water and time!
It can sprout multiple types of seeds such as Bean Sprouts, Spinach, String Beans, Black Beans, Buckwheat, Okra, Helianthus, Annuus, Hollow, Radish, Mustard, Songliu, Green Peas, Red peas and much more. 
FEATURES AND BENEFITS
It is made of durable and non-toxic Food Grade PP material making it healthy and safe to use. 
SAFE AND IDEAL TO USE IN ANY SEASON - Grow easily without any problem in any season. Use it in the winter, summer, spring, or fall! 
Easy to use and it doesn't take much time or maintenance.
SPECIFICATIONS
Material: PP
Bottom Tray Size: 13.27" x 9.65" x 1.77" / 33.7cm x 24.5cm x 4.2cm
Inner Tray Size: 12.72" x 9.25" x 1.42" / 32.3cm x 23.5cm x 3.6cm
PACKAGE INCLUDES
1 x Double-layer Seedling Tray
NOT SOLD IN STORES!
ADD TO CART NOW for 50% OFF 

SHIPPING DELAY NOTICE:
Please be expected 2-4 weeks shipping delay due to High Volume of Order